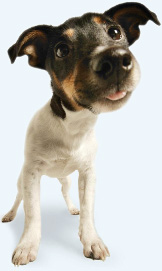 How Do I Train My Pet to Go Through a Pet Door?
Never force or push your pet through the pet door. This is a new experience for them and they need time to adapt.
When your pet is ready to go outside for the first time, bring your pet to the pet door. Go to the other side of the door and open the flaps toward you. (It may be helpful to have a second person with you so one of you can be on each side of the door or wall.) Gently coax your pet through the door by using his favorite toy or treat. Use the same method in reverse to bring your pet back inside when he is ready.
After repeating the above process once or twice, gently lay the flaps on your pet's back when he walks through the door. (This will get him used to the feeling of the flaps on his back and also get him used to the idea of pushing on the flaps.)
Each time your pet comes through the door, you should hold open the flaps a little less and let him begin pushing on them
Show your pet that the flaps are easily movable and not an impassable barrier. Do this by gently flipping the flaps open.
Have fun during the process. Celebrate when your pet goes through the pet door on his own!
Keep Your Pet Door in Tip Top Shape
Frame, flaps & security cover: clean with mild detergent or a product like Simple Green (don't use ammonia based cleaners) and a soft cloth.
Prolong the life of the vinyl: coat with vinyl protectant, such as Armour All or Turtle Wax.
Carpet in wall models: clean with your vacuum cleaner. Use any carpet spot cleaner to remove spots.
Tempered safety glass: clean with any glass cleaning products.