About Purrfect Pet Doors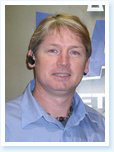 Eddie Coykendall is a Licensed Nevada Contractor
I'm insured, bonded and licensed under Nevada contractor's license #0072955. All my work is warrantied and products are covered under the manufacturer's warranty. I am certified by Hale Pet Door™ to install pet doors in your home. Certified Hale Pet Door Installers have been tested and agree to the Hale Pet Door™ Customer Bill of Rights.
After working many years in construction, I am familiar with structural integrity, bearing points of houses and rerouting of electrical wiring. My truck is equipped with parts for Tubes in the Wall® bugline systems if needed.
Installing Pet Doors in the Vegas Valley Since 2002
I've been installing pet doors in the Las Vegas Valley area since 2002. I specialize in Hale Pet Doors due to their high quality and durability. I can install:

in wall pet doors
in glass pet doors
in door pet doors
in screen pet doors
window and patio glass panel inserts with pet doors
dog doors, cat doors, turtle doors, monkey doors
Experienced in all phases of home repair and construction, I can reroute any electrical or plumbing work before installing your wall model pet door. I built houses for 10 years on the East Coast before I moved west. For the last 15 years I've lived in Las Vegas. Installing pet doors has been a large part of my construction remodeling business since 2002.
The Las Vegas Valley is my home, and I'm proud to install the highest quality pet, cat and dog doors in Vegas homes and pet businesses.
Rescue Rewards Program
If you have a rescued pet, I support homeless pets by giving you 10% off the purchase price of your Hale Pet Door. AND Hale Pet Door will donate 10% of your pet door purchase price to the shelter or rescue where you adopted your pet.
Pet Door Installation Hours
Monday through Friday: 8 am to 6 pm
Saturday: 10 am to 2 pm
The above times are the best hours to call for an appointment or for more information. However, we try to cater to our customer's needs and will schedule at other times that are convenient for you.
Your Feedback is Important to Me
Customer service and satisfaction is my highest priority. If you have any questions or concerns about my service, please call me at 379-0609, so I can make it right.
There are several places on the Internet where you can leave a review or comments about the job I did for you. I appreciate your feedback on these sites: